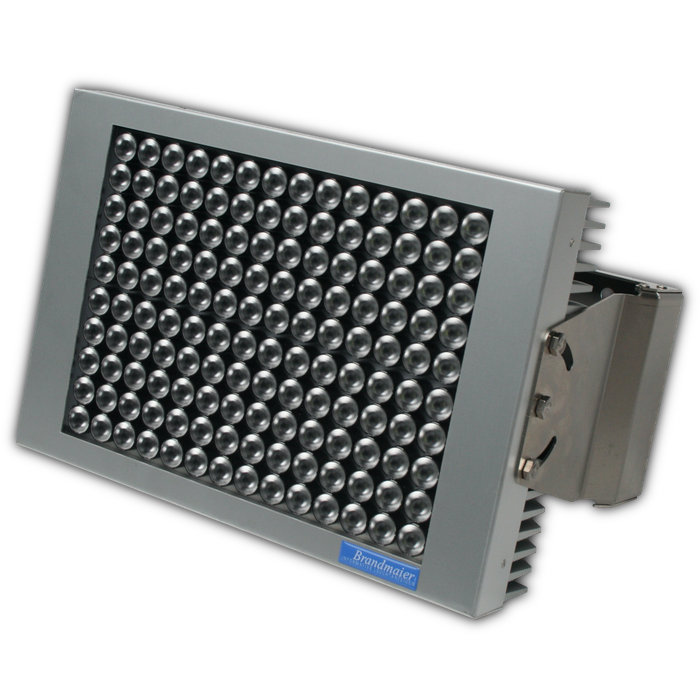 May it be enlighting drinking water tanks, indoor cranes or ensuring light on the high seas, it is suited for any challenge.
Its complete water impermeability, resistance to high and extremely low temperatures and absolute reliability make it ideal for environmentally challenging usage.
Due to the large heat sink, there is a higher weight. But on the other hand this is compensated very well by the fanless and permanent 24/7 operation.
You can find the LED spotlight with different beam characteristics, which allows it to achieve perfect illumination in any place and at any distance.
Application examples
Illumination of buildings and towers
Illumination of halls, loading yards, public places, sports fields
use as crane light, floodlight, hall light and many others
suitable for indoor and outdoor use
can also be used as a mobile LED spotlight
Designation
LTML-140-O
LTML-140-W
LTML-140-M
LTML-140-P
Power consumption at 230 VAC
155 W
155 W
155 W
155 W
Luminous flux
13.520 Lumen
13.520 Lumen
13.520 Lumen
13.520 Lumen
Beam characteristic
20° / 46 °
46 °
22 °
11 °
colour temperature
2.700-6.250 K
2.700-6.250 K
2.700-6.250 K
2.700-6.250 K
Dimensions in mm
(WxHxD)
400x265x135
400x265x135
400x265x135
400x265x135
Weight
ca. 15 kg
ca. 15 kg
ca. 15 kg
ca. 15 kg
Safety class
IP65
IP65
IP65
IP65
Temperature range
-25° bis +50°
-25° bis +50°
-25° bis +50°
-25° bis +50°
Designation
LTHL-210-34
LTHL-210-46
LTHL-210-70
LTHL-210-120
Power consumption at 230 VAC
210 W
210 W
210 W
210 W
Luminous flux
13.520 Lumen
13.520 Lumen
13.520 Lumen
13.520 Lumen
Beam characteristic
34 °
46 °
70 °
120 °
colour temperature
2.700-6.250 K
2.700-6.250 K
2.700-6.250 K
2.700-6.250 K
Dimensions in mm
(WxHxD)
400x265x135
400x265x135
400x265x135
400x265x135
Weight
ca. 15 kg
ca. 15 kg
ca. 15 kg
ca. 15 kg
Safety class
IP65
IP65
IP65
IP65
Temperature range
-25° bis +50°
-25° bis +50°
-25° bis +50°
-25° bis +50°